We've found easy ways for you to enjoy the benefits of ShopBack, even when shopping in-store. Browse and search for our partner stores (for now, cafes & restaurants only) near you, continue shopping as you normally would, and pay with ShopBack Pay.
How it works - QR Payments
Make cashless payments using QR code with ShopBack Pay. Just link your bank payment cards or use your Apple wallet on ShopBack to start. There is a 1.5% service fee on every ShopBack Pay purchase.
For more information on how to pay using ShopBack Pay, check out How to pay for your purchase.
Service fee on ShopBack Pay purchase
There is a 1.5% service fee on every ShopBack Pay purchase. This will help us to run our platform so you can continue to earn Cashback at your favourite stores.
How the service fee will be calculated: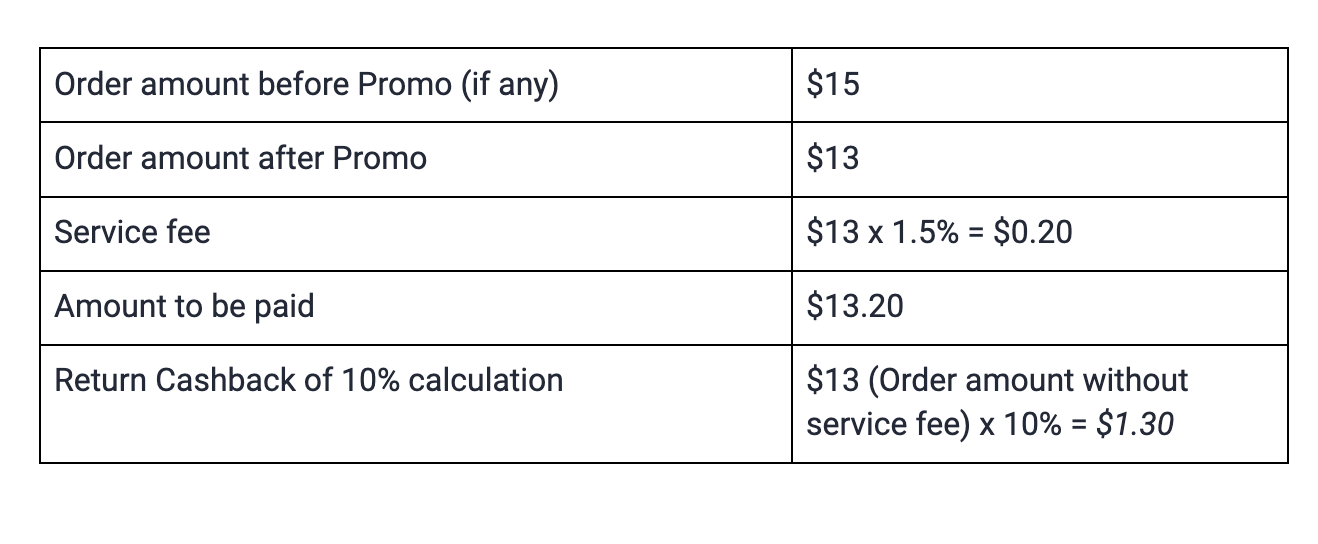 Return Cashback
Your Cashback will be confirmed on every subsequent visit. This is a great way to earn Cashback at your favourite cafes or restaurants!
*Return Cashback % is applied on your purchase amount, excluding service fee.
How to find ShopBack Pay-friendly stores
On the ShopBack app, tap Nearby.
Search for cafes or restaurants if you have something specific in mind. Or, use the Map to see all available cafes or restaurants near you.
Tap the ShopBack Pay to filter for cafes & restaurants that support ShopBack Pay.
If you ever see our ShopBack Spark logo in the wild, that means you can pay via ShopBack. Just scan the QR code tapping Pay from the home screen of your app.
Pay using Scan & Pay
To use Scan & Pay, link your payment method first. See Manage payment methods on how to link your payment method.
Tap Pay or Scan & Pay to open your camera.

3. Scan the ShopBack QR code to pay.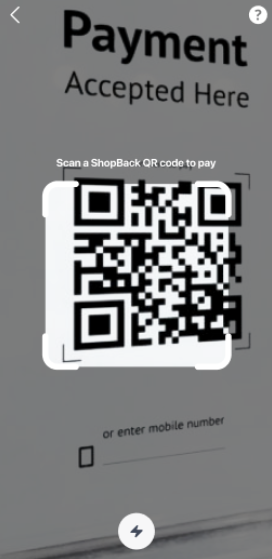 It's that easy!
Paying with cards linked to your ShopBack account
Starting 27th Feb 2023, ShopBack Pay will replace tapping your cards, hence, you will no longer be able to use your card directly to make payments. However, you still can link your card to your ShopBack app and scan the QR codes to pay.
We mean it when we say no extra steps are needed. Just Scan & Pay with your ShopBack Pay once you've linked your card, and we'll handle the rest.
IMPORTANT: To avoid your account from being potentially flagged as fraudulent, all In-Store transactions must be legitimately made where you will need to make a valid purchase with our merchants.
Rewards for shopping in-store
Bonus Cashback with Boost
Some stores offer a Boost feature that lets you earn bonus Cashback for a limited amount of time.
How to earn bonus Cashback with Boost
Search for your go-to store or just see available cafes & restaurants near you. Remember to select In-Store to see only offline options.
Use Filters to only view cafes & restaurants that are offering Bonus Cashback.
You'll see a list of participating cafes & restaurants that offer bonus Cashback. Just tap the Boost button before you pay!
If the Boost is locked, that means you haven't linked a card yet. Link a card by tapping the locked Boost button.
Now just head over to the cafes or restaurants and pay via Scan & Pay (or with your linked card). Enjoy your bonus Cashback along with the items you've purchased!
Loyalty rewards
If you've consistently shopped at a partner cafe or restaurant, you'll get rewarded with loyalty rewards.
How it works
You don't have to take any extra steps to stack loyalty rewards. Just follow the ShopBack In-Store guide as usual, which means paying in-store using Scan & Pay or with the card linked to your ShopBack account.
Since each cafe or restaurant will have a different set of requirements, it's best to read the cafe's or restaurant's requirements directly. But often, there will be some type of qualifying requirements to meet such as:
Spend goal.
Certain number of visits during a specific time period.
Things to note
You'll continue to earn Cashback as usual.
Voucher purchases also count toward your loyalty progress.
Tracking your loyalty progress
Initially, your loyalty amount (whether it be spend or visit amount) will appear as Pending until it's successfully validated. This can take from 7 to 14 days. Once it's successful, the validated amount will appear on the progress bar or stamp card.
Once you've met all the requirements and all your transactions are validated, you'll get your loyalty reward. The reward will vary by cafe & restaurant and may have an expiry date so make sure to read the details.