FAQs for senders of ShopBack Gifting
1) How do I purchase something for ShopBack Gifting?
Step 1: Pick your gift
Select a deal and a denomination (if applicable), then tap "Send this as a gift".

Step 2: Design it
How many gift-giving occasions are there in a year? As many as you can think of! Pick a design that suits the occasion (or your recipient's design aesthetic).

Step 3: Add recipient details
Add in the recipient's details (no typos, please!), and a personal message to make it that little bit extra special. You can also schedule when the gift should be delivered to them.

Step 4: Final check
Is everything good to go? Go ahead and pay for the gift, and leave the rest to us.

Step 5: Earn Cashback (and brownie points)
Get Cashback for your purchase, and gratitude from the friend you sent the gift to. Remember to ask them to check their email to use their gift!
2) Will I earn Cashback from ShopBack Gifting for family/friends?
Yes, you will still earn Cashback when you buy deals to gift!

For Online Gift Cards: Cashback will be confirmed instantly upon making the purchase.
For In-Store vouchers: Cashback will be confirmed once your friend redeems their gift at the merchant store.
3) Will I still be entitled to Group Buy Upsized Cashback (if applicable) on gifted purchases?
Yes, for applicable deals you can buy with a friend, you will earn Upsized Cashback once all the necessary purchase criteria are met.
4) Will the recipient need to be a ShopBack user and/or have the ShopBack app to access their gift card/voucher?
No, they won't to both. They'll receive a URL via email to view their gift card/voucher in a web browser.
5) How will the recipient receive their gift/card voucher?
The recipient will receive their gift digitally, based on the recipient email address you've supplied to us. ShopBack only sells digital gifts.

If you do not wish to provide the recipient's email address, you can also retrieve the gift URL by sending the gift to yourself. Once you've retrieved the URL, you can send it to your recipient through any other means such as WhatsApp, Messenger, Instagram etc.
6) How far ahead can I schedule my gift?
You can schedule the gifts up to 3 months in advance.
7) My recipient is located in a different timezone to me. What time should I schedule my gift?
Your gift will be sent out at the timezone based on your mobile device.

If you're in Sydney (AEDT) and you'd like your recipient based in Perth (AWST) to receive their gift at 12am their local time, you'd input the send time as 3am Sydney time (equivalent to 12am Perth time). You may also use this time converter: https://www.timeanddate.com/worldclock/converter.html.
8) I've sent my gift to the wrong email address, what do I do?
You can reach out to our support team here with your order ID and the correct recipient email address.
9) How long will it take for the recipient to receive their gift?
The recipient will receive their gift instantly, or otherwise at your scheduled delivery date and time.
10) My recipient has not received their gift?
You will be able to see the gift link on your ShopBack App. Please make sure it's updated to the latest version.
10(a) Go to Purchases (Ensure that "Show available only" toggle is turned off)
10(b) Click on the gift card and you will see the a link to the gift to send directly to your friend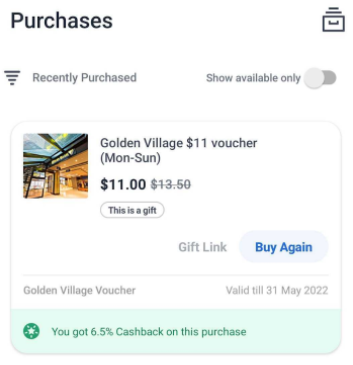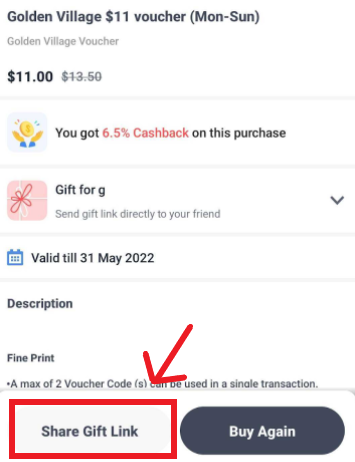 Can't find what you need? Reach out to us!