ShopBack offers various ways to pay - both online and in-store - to suit your needs and preferences. When shopping online, pay using your usual credit or debit card.
At physical stores that display the ShopBack Spark logo, you can use ShopBack Pay to pay for your purchases and earn rewards.
Overview of different payment methods
For online purchases
For online purchases, the way we track your purchase is when you "activate" the visit from ShopBack (app, website or browser extension). How to pay depends on what options the online store provides.
Begin your shopping journey with ShopBack.
Head to the store's page and continue shopping as you normally would.
When you're ready to head to checkout, pay using the store's checkout screen. As long as you've reached the checkout page via ShopBack, you can freely choose your payment method. (Do note that only certain stores allow usage of Gift Card as payment method).
How to pay in-store
Using ShopBack payment methods to pay in physical stores enables us to track your purchase and award Cashback. We offer ShopBack Pay, an effortless way to make cashless QR payments so you can still reap the benefits of ShopBack even when shopping offline. We'll also track transactions made with payment methods linked to your ShopBack account.
*There is a 1.5% service fee on every ShopBack Pay purchase.
ShopBack Pay
All you need is your phone and the ShopBack app to use ShopBack Pay.
Tap Scan & Pay at ShopBack-friendly stores.

2. Scan the ShopBack QR code and pay.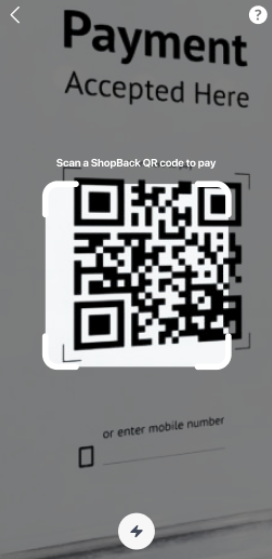 3. Enjoy the rewards.
Using Cashback to pay
When you use ShopBack Pay, you can also use available Cashback to offset the total amount - including when you buy Gift Cards or Vouchers.
How to pay with Gift Cards
You can also pay for your purchase with ShopBack Gift Cards both online and in-store. For more information on how to buy and pay with Gift Cards, check out our Gift Cards and Vouchers guide.
Helpful resources
If you need further information regarding payment, these articles might come in handy: