1. What is Westpac?
Westpac is Australia's first bank and oldest company, one of four major banking organizations in Australia, and one of the largest banks in New Zealand.
Westpac provides a broad range of consumer, business and institutional banking and wealth management services through a portfolio of financial services brands and businesses.
2. Why a partnership between Westpac & ShopBack?
To give you more Cashback, of course! Westpac is joining forces to give additional Cashback just by linking your Westpac card and shopping as normal through the Westpac lounge on ShopBack.
3. How does Westpac Partnership work?
You only need to download the ShopBack app, link your Westpac debit or credit card and will be given access to exclusive offers across many brands.
On top of Cashback offers you see, Westpac customers will earn up to 10% more on your favorite brands. (There may be a cap on the additional bonus.)
4. Who will benefit from this partnership?
Everyone can earn more Cashback when they use their linked Westpac card to make a purchase, whether they are a new or existing Westpac customer!
5. How to earn Cashback using your Westpac card?
Always start your shopping journey from the ShopBack app or ShopBack website.
Step 1
You need to start your shopping journey from the ShopBack app or web. Please link an eligible Westpac Card to your ShopBack account before you make a purchase.
Eligible Westpac cards can be found here.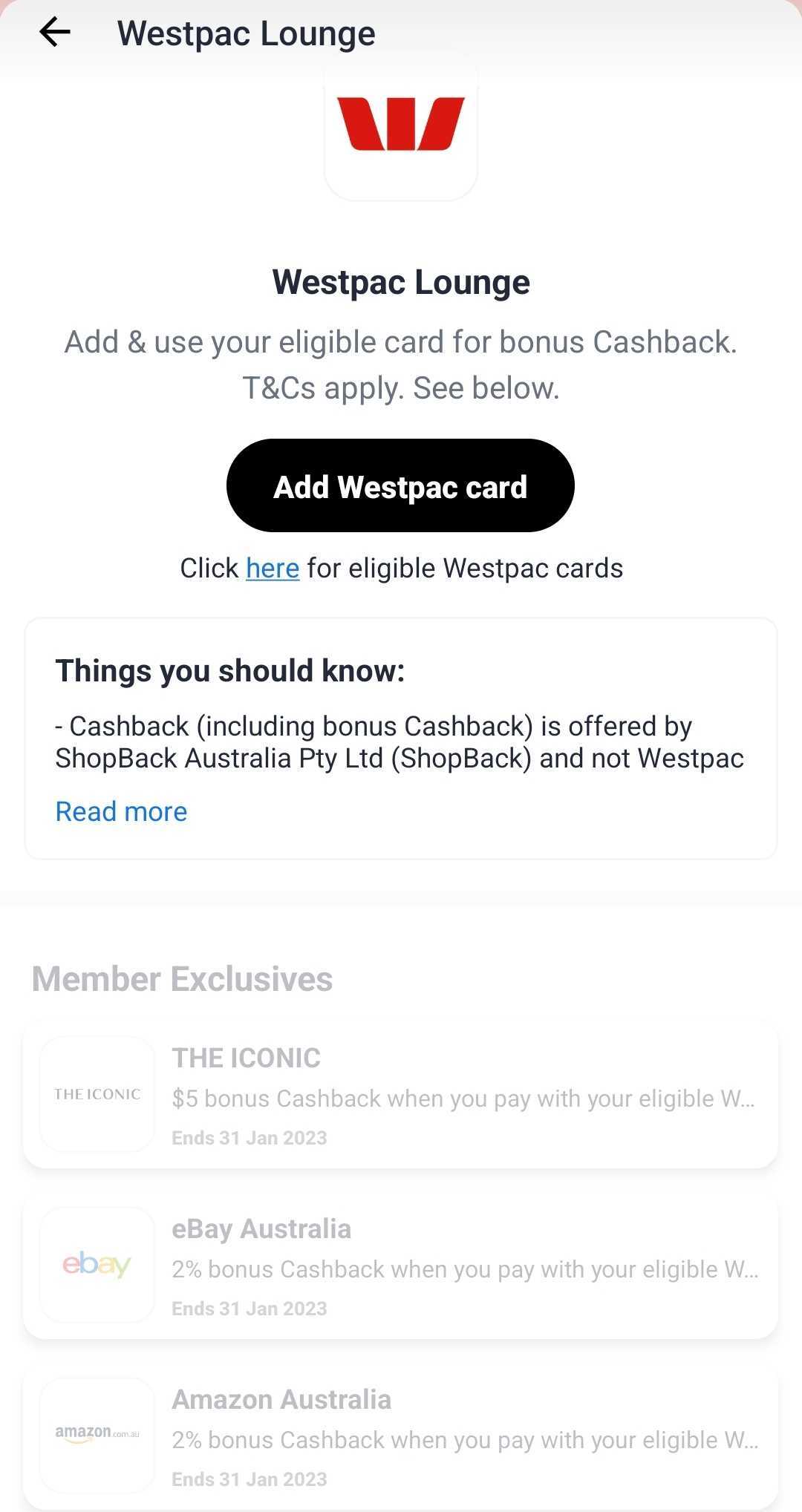 Click here to view the participating stores for this partnership.
Step 2
Unless otherwise stated, you can pay using an eligible Westpac debit/credit card except for Westpac business cards, PayPal and buy now pay later providers.
Eligible
✅ Westpac debit/credit cards
✅ Apple Pay (using your Westpac debit/credit card)
✅ Samsung Pay (using your Westpac debit/credit card)
✅ Google Pay (using your Westpac debit/credit card)

Ineligible
❌ Westpac business cards
❌ PayPal
❌ Buy now pay later services (including but not limited to Afterpay, humm, Klarna, Zip)
***The Westpac debit/credit card must be linked to the ShopBack app when using the following Pay systems.
Step 3
Once the affiliated Cashback has been tracked and confirmed successfully, the Westpac bonus Cashback will also be confirmed.
If the affiliated Cashback is rejected, then the Westpac bonus Cashback will also be rejected.
Your Westpac card must also remain linked to your account. If you're using a dynamic CVV/CVC, you don't need to relink your card when the CVV/CVC changes. Unlinking your linked Westpac card from your ShopBack account will cause any associated pending Westpac bonuses to become rejected, even if you relink it.
If you have any further queries, please do not hesitate to click here and we will be glad to assist you!